faith in action
Afghanistan's Humanitarian Crisis
Critical issues of hunger and development must be addressed
---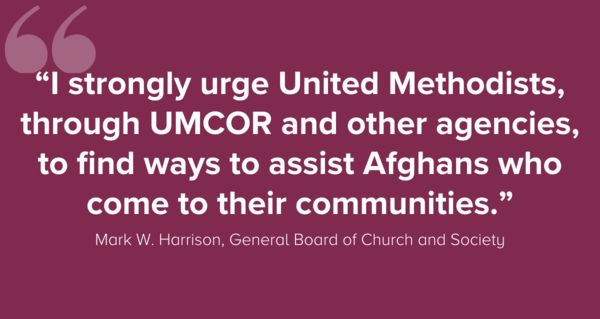 The final withdrawal of the U.S. from Afghanistan on Aug. 30 does not mean an end to United Methodist concerns over the humanitarian crisis in that country and the plight of refugees facing resettlement.
As staff of the General Board of Global Ministries, David Wildman has made occasional trips to Afghanistan over several decades to meet with humanitarian partners. Any political entity running a government, he explained, recognizes that some level of health care, community development and education are needed if a country is to survive.
"We, as United Methodists have partnered with ecumenical partners and with Afghans since the mid-1960s in working with health care and economic development," Wildman said. "We fully anticipate the work will continue, with a variety of partners."
The United Methodist Committee on Relief will be working with long-standing partners to provide humanitarian relief in Afghanistan and is prepared to assist with refugee resettlement.
Mark W. Harrison, Director of the Peace with Justice Program of the General Board of Church and Society, said he has struggled with the question of what responsibility the U.S. government bears toward Afghanistan in addressing critical issues of hunger and development. "I think we need to put this in the framing that the U.S. war effort did not accomplish what we were told by U.S. leadership," he added.
The chaos surrounding the U.S. withdrawal and rapid ascent of a new Taliban government contributed to the humanitarian concerns, while the horrific suicide bombings near the Kabul Airport on Aug. 26 that claimed innocent lives — killing nearly 200 Afghan civilians and 13 U.S. service members — added an "insane" element to the situation, Harrison said.
"War is a human tragedy," he declared.
Wildman pointed out that the vast majority of Afghans are tired of decades of war and want peace.
"Tragically, the attack at the Kabul airport and the recent U.S. drone strikes demonstrate the horrors of war," he said. "Civilians, especially children, suffer greatly when the cycle of violence and vengeance continues.  Let us pray that all may turn their hearts to the things that make for peace." 
Fears remain about human rights — for women, for journalists, for the many Afghans who are incredibly poor. The need for support for those who want to leave Afghanistan is ongoing.
"There's a strong mandate for us as Christians, certainly as United Methodists, to support those trying to flee violence and persecution," Wildman said.
Congress may hold hearings on the lessons learned from 20 years of the U.S. military presence in Afghanistan, Harrison said. United Methodists also need "to be looking at peace issues and the role that the U.S. military plays in the world," along with alternatives to war and the use of diplomacy to address conflicts.
One of the learnings, he pointed out, is how to give politicians a way to talk about peace without seeming weak. "Being strong means the military. We need to find another definition of what it means to be strong."
Wildman noted that the U.S. was talking with the Taliban every day in recent weeks. "To see that shift, I think, affirms a longstanding United Methodist principle that we should talk with everyone, including our enemies. That's far better than fighting."
He expressed concern about foreign donors freezing contributions to what currently amounts to about 80 percent of the income for the Afghan government, directly affecting health care and salaries. The Rev. Liberato "Levi" Bautista, Assistant General Secretary for United Nations and International Affairs of the Board of Church and Society, also cautioned against a freeze in assets being turned "into a de facto sanction," stressing the need for humanitarian aid to continue in Afghanistan.
"Humanitarian work should be followed sooner rather than later by development work — so that the infrastructure for sustainable society in Afghanistan is rebuilt," Bautista said.
Thirty to forty percent of Afghans already face food insecurity, Wildman said, and the entire country, dependent on agriculture, is dealing with severe drought. If borders are closed, there is no ability to supplement income with migrant work in nearby countries.
The United Methodist Social Principles opposes all sanctions on foods and medicine. The reality, Wildman explained, is that if the World Bank and International Monetary Fund impose sanctions on funding to Afghanistan, "it will be, in effect, a sanction on food, health care and medicines."
The matter of governance should be approached carefully, Bautista pointed out. Aid agencies deal with whoever is "on the ground," with diplomatic relations being a separate matter.
"When diplomatic recognition will be accorded to the Taliban and by whom, and how soon, is a matter that however long that takes, should not postpone the delivery of life-saving aid and support to the Afghan people," he said.
The United Nations High Commissioner for Refugees has called for Afghanistan's borders to be kept open and for more countries to share the responsibility of taking in Afghan refugees.
More recently, however, a number of countries have turned back Afghans — now the second largest refugee population in the world and the largest in Asia — Wildman said. He would like to see the U.S. give Afghans temporary protective status under its refugee and asylum laws, as it has in the past for those from El Salvador and Haiti.
The church has always actively supported refugees coming to the U.S., Harrison pointed out. "I strongly urge United Methodists through UMCOR and other agencies to find ways to assist Afghans who come to their communities," he said.
Bloom is the interim communications director for the General Board of Church and Society.