faith in action
A time for renewal and community: Chapel at Church and Society
Every Wednesday, Church and Society hosts a virtual worship service to reflect, pray, and gather strength on the journey towards justice.
---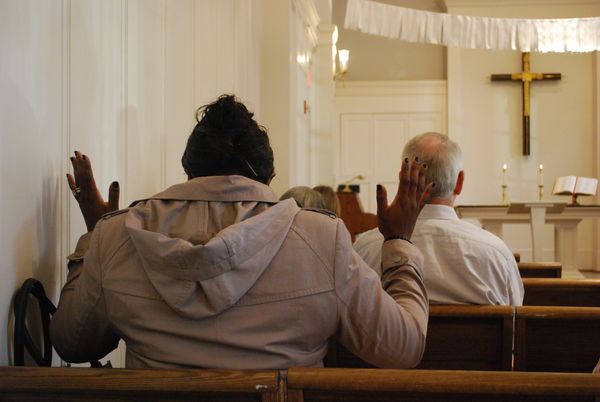 "Be still and know that I am God." Psalm 46:10 is familiar to many of us, yet it can also be incredibly hard to abide. Taking time for ourselves to be still in God's presence may seem like an indulgence amidst work that never seems to stop, but it is so necessary to find restoration and renewal to continue in the work of social justice to which we are called. For how are we to share God with others if we are not regularly spending time in the presence of God that our hearts may be filled? It has been said that you cannot pour from an empty cup and likewise, you cannot do good when you have lost heart. Galatians 6:9 offers this: "And let us not grow weary while doing good, for in due season we shall reap if we do not lose heart." The dedicated weekly time for chapel at Church and Society is an offering of pastoral care to our staff, and to all who attend, so that our hearts might be filled for the continuous work and journey. It is an offering suggested by the companion litany to our Social Creed, a time to be renewed in the image of God: "God in the Spirit revealed in Jesus Christ, calls us by grace to be renewed in the image of our Creator, that we may be one in divine love for the world." Only when we are regularly renewed can we resist growing weary while doing good.
Through my internship at Church and Society, I have had the opportunity to plan and lead several chapel services this year, a new experience for me. While I had participated in my local church in a worship leader capacity, I have never had the opportunity to prepare and lead a worship service. Through this prayerful work of worship planning, I have seen how worship can provide a creative outlet for connecting to the presence of God, as Church and Society chapel does not look the same from week to week. From meditation, to lectio divina, to interactive discussions, chapel services employ a variety of worship experiences and are always a bright spot in my week. It is a time to be renewed and restored to continue pressing on toward justice. I am grateful for the time to be still and in that set apart time seek the words and work of justice and peace.
---
Join Church and Society in worship on Ash Wednesday worship on February 17 at 12 noon Eastern.
For more about Church and Society's weekly chapel services, contact Dr. Jessica M. Smith, Senior Executive Director for Research, Planning and Spiritual Formation.