faith in action
A spotlight on the Ethnic Young Adult Interns
Meet our current Ethnic Young Adult Interns.
---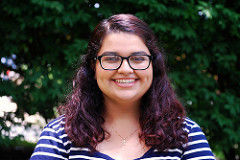 Grace Bermudez-Soria
I'm from Sacramento, California
My local Church: United Methodist Hope Church
Annual Conference: California-Nevada
School: California State University of Sacramento
Study: Nursing
My hope for my time in DC
Being here in DC has been amazing so far, especially being my first time out of California. So my main big outcome I hope to experience is to learn the different culture and lifestyle here in DC. I also want to find myself and who I identify myself as outside my 3 little sisters. Being the oldest my whole world revolved around them so being here for two months is giving me the chance to learn and find my own self. Being here so far has really made me grow as an individual, having to learn my way around, learn how to communicate with people I never met before has been essential to this journey I'm walking here in DC. When it's time for me to go back home, I would love to finally understand my purpose and role I have for making a change in my own community. This is the start of me taking the first step towards my journey with my faith and meaning.
The work I am doing this summer
This summer I'm working with a program called RESULTS. RESULTS goal is to end poverty with influencing the House, Congress and lobbyist to push towards program aids like SNAP, School Lunch Programs, EITC that would bring millions of Americans out of Poverty. Their slogan is "The Power to end Poverty" which is perfect for all the work and influence they have globally. Results has two branches, one is U.S. Poverty campaign and Global Poverty campaign. I will be working with the U.S. Poverty Campaign team this summer. For RESULTS, I will be working on the Nutrition Overview Presentation which I will present at their annual conference, as well as write some blogs for their website and write promo material, go to conferences and meetings, work with the nutrition campaign that is associated with the Global Poverty Campaign. Here at RESULTS, I will get my hands in so many different tasks and learning opportunities. I'm excited to see what this summer has for me here at RESULTS.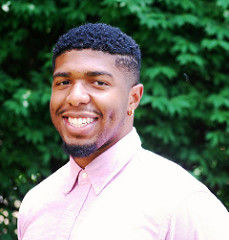 Miles Dortch
I am from Kansas
My Local Church: Asbury Mount Olive United Methodist Church
Annual Conference: Great Plains Annual Conference.
School: University of Arkansas-Pine Bluff
Study: Accounting and Finance
The church continues to shape me
"Who is it that overcomes the world? Only the one who believes that Jesus is the Son of God"– 1 John 5:5. When I look back on the past few weeks I have spent in D.C. I believe this specific bible verse best describes my journey thus far. My church family has played an enormous part in my childhood transitioning into adulthood, and I am extremely grateful and honored to be representing them in the EYA program. When I was selected to be a part of a program with excellent reputation I was beyond grateful to have the opportunity to experience the work environment in a busy community. All of the places my fellow EYA interns and I have been thus far has really taught me how to become more open-minded about issues that are happening in our nation. Over the few weeks of living in DC God has opened my eyes to issues I have never noticed before.
A moment where God was at work
When I was younger I remembered people say "God lives through all things" and I never knew what that meant until I encountered it on my own. God has been visible in many places throughout my journey of faith being involved in this program. There have been several instances where I had saw God but this particular situation struck me the hardest. On my way home from work recently I had just bought some food for dinner and I was in a rush to get home to beat the storm that was heading my way. As I left the restaurant I dropped a 10 dollar bill and a homeless man picked it up and followed me and tapped me on the shoulder and I turned around and he said "You dropped this sir" and held the 10 dollars out to give it back to me. I was so surprised and I didn't know what to say. I took my wallet out and gave him 5 extra dollars and he looked as if he was about to cry, before he could say another word I said "God bless you". And I knew that very moment God was with both of us in that moment.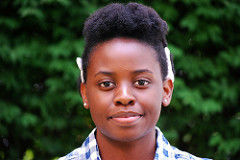 Yolandah Chinyani
I'm from Zimbabwe
School: Martin Methodist College
My Local Church: First UMC in Pulaski
Study: Accounting
I decided to join the GBCS this summer under the EYA internship looking forward to work on social justice issues and make a difference in the world.
The ministry I am a part of this summer
I work with Healthy Families Healthy Planet which is an organization that works mainly on family planning, maternal health and global health. I'm glad to be part of this work as I see people working hard to make sure the world is a better place to be for everyone. As an intern, l was placed at HFHP and l had no idea what it was at first. Most of the work that l do is research on advocacy work and strategies to use for global health especially in developing countries.
Living in DC and in community
This has been a great experience as l am also learning new things and see the great things people are doing. Living here in DC this summer, l have had many "A ha" moments because of the different cultures of people in our small community we have as interns. I have also had moments to think about and question US laws and culture because of my culture and laws. Learning all these things l have realized that a community is built by both experience and faith as the book Life Together talks about. This has been a great experience for me, l have a lot to take with me and l'm glad l had this opportunity. Many thanks to all those who made this happen.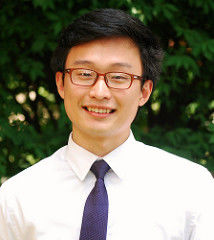 Sanha Ryoo
Local Church: Zion Korean United Methodist Church
Annual Conference: North Georgia
Campus Ministry: Emory Korean Christian Association
Studying: Philosophy and Business
Campus Ministry: Emory Korean Christian Association
Studying: Philosophy and Business
In the newness the word of God was a source of strength
The EYA internship through the GBCS was a new experience for myself in a number of ways. I had never been to D.C. alone as an adult, I would be in a new living situation, I would be doing a job I had never done before, and I would be in a place without much familiarity. I knew coming in that I would need to adapt quickly, as I would only be here for a short two months. God was quick to give me a source of stability in a changing and fresh environment: His word. Doing a daily devotion and consistently reading, reflecting on, and praying about the Word has been a God-given gift to me in a different way this summer. Not only was it daily bread for my Spiritual life, but it was an element of my life that remained the same despite the environment I was in.
In the busyness and the sorrow I found strength
This became especially helpful, because the schedule of the work I would be doing was certainly not steady. Every week there was a different schedule for me to follow, and I would check in with my supervisor multiple times a week to make sure I had the correct schedule for the upcoming week on my calendar. Further, the violence and terror on the news seemingly every day in July was even more disorienting, and this was worsened when I learned of the loss of two school peers through the incident in Dhaka. However, through all of this disorientation and chaos, every morning I could rely on my morning devotional to keep myself grounded. The psalmist sings, "God is our refuge and strength, an ever-present help in trouble" (Psalms 46:1 NRSV). Indeed, His word has been both my refuge and strength this summer in D.C., and I am grateful every day for it.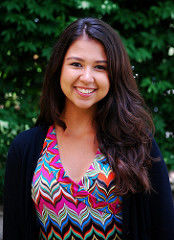 Anna Del Castillo
I am from Mississippi
Annual Conference: Mississippi
School: Tufts University
Study: International Relations
Wow, it's hard to believe that my summer as an intern for the General Board of Church and Society is almost at an end. My eight weeks in Washington, D.C. have been filled with sweet conversations, selfless friends, and transformative experiences.
My personal experiences and family history shape my work and studies
As a rising third year student at Tufts, I am studying International Relations with a special interest in human rights and human migration. Building upon those interests, GBCS did a wonderful job of placing me at Church World Service, one of the nine refugee resettlement agencies in the United States. At CWS, I am working as a Policy Advocate for the Refugee and Immigration office. I am continuously inspired by the resilience of refugees and immigrants. As the daughter of a first-generation Peruvian-Bolivian immigrant father and a mother who has worked with the immigrant community in M.S. for many years, I have been exposed to the harsh realities that many immigrants experience. My classes at Tufts also exposed me to the horrific conditions that cause millions around the world to be on the move. In most cases, these conditions are unjustly imposed onto communities that are stripped of their human rights and given no option but to flee for their lives. I found myself reading refugee and migrant stories every day, stories of deadly journeys and of camps starved of resources. As I sat in comfort and safety in this country where I've been afforded so many opportunities, I began to ask myself what my role in this humanitarian crisis would be? How could I use my privileges to contribute to the justice that Jesus Christ calls us to seek?
My faith motivates me
These questions along with the power of prayer brought me to this internship. While at Church World Service, I've participated in conversations about refugee crises all over the world. I've read hundreds of pages on the unfathomable violence and harsh conditions that refugees live in. Too often, we read headlines about refugees, but find it difficult to digest the intricacies of the crises. This summer has taught me ways that I can use my mind, body, and voice as tools for justice. I've scheduled meetings with legislators, attended protests, written voting recommendations for members of congress and voiced my concerns to those in positions of power. We all possess the power to change the world, and in this world where so many are not afforded the same opportunities, it is truly an injustice to sit in silence and comfort and neglect the atrocities occurring in our backyard and all over the world. I challenge each of us to stay connected to these issues, to stand in solidarity with communities fighting injustices and to use our unique gifts and talents to do justice, love mercy, and walk humbly with God.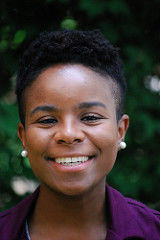 Erica West
From: Alexandria, Virginia
Local church: St. Paul United Methodist Church
Annual Conference: Baltimore-Washington Conference
Campus Ministry: Wesley Campus Ministry at the College of William & Mary
Studying: College of William & Mary
My placement
At Men Can Stop Rape, I work on issues of gender based violence and sexual assault prevention, as well as youth development in DMV public schools. I primarily worked with the Youth Development program, where I helped coordinate our annual university conference and even facilitated a panel for student activists. Additionally, I helped with community outreach on our programming and also conducted research on expanding our flagship app, AskDC and UAskDC (which everyone should download)!
A person who inspires me
There are so many people who inspire me - famous and everyday folks - but the person who immediately comes to mind is Reverend William Barber, II, one of the leaders of the Moral Monday's movement, leader of the North Carolina NAACP, and a speaker at this year's Democratic National Convention. I love that he is an older straight Black cisgender male Christian leader who believes in coalition building with people who are different than him - an intersectional approach drastically different from other leaders in similar positions.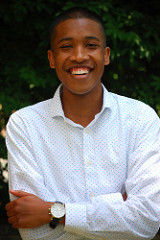 Justin Jones
From: California
Local church: Clark United Methodist Church
School: Fisk University
Studying: Political Science
On the Journey
During my internship I ran across a quote by theologian H. Richard Niebuhr that, "Pilgrims are persons in motion passing through territories not their own, seeking something we might call completion, or perhaps the word clarity will do as well, a goal to which only the spirit's compass points the way." This eloquent message caused me to pause as I realized it so directly encapsulated my hopes for the experience here in DC on my own personal pilgrimage towards a deeper calling and higher ground. Quite honestly, like any sojourner in a 'strange land' I am out of my comfort zone in an unfamiliar place and role. I've traded my marching shoes and bullhorn from organizing work in Nashville over these past few years, for a suit and tie at a desk. Living across the street from the U.S. Capitol, I find myself astonished at of the beauty of the buildings around me, while at the same time even more concerned as I enter them and realize how insulated our political leaders are from the needs of everyday people. Yet, as a student particularly interested in the intersection of faith and politics, of our theological understandings and social justice, I could not be in a better classroom. I remain open in heart and mind to the possibilities that even in the midst of our current political environment that the Spirit can make a way out of no way. Perhaps, one of the greatest insights of our faith traditions (as opposed to a view strictly from a policy perspective) is that we are not confined by what is or what others have deemed as 'realistic.' Part of this experience is looking at how to change unjust institutions, but I feel I have also come all this way to take a journey down and within my own being. In this process of discernment, I come searching my own conscience, confronting my own brokenness, seeking to touch that inherent, divine love present in each of us to transform the world around. My fervent and heartfelt prayer continues to be, "Lord, extend me beyond my reach…"