faith_in_action
Church and Society Commemorates 30 Years of the Americans with Disabilities Act
Celebrate with us by attending our virtual panel discussion on July 22, 12:00pm EST.
---
ADA 30th Anniversary Panel Discussion July 22, 2020 12 PM EST
---
On July 26, the U.S. will commemorate an historic milestone in the advancement of human rights: the 30th anniversary of the signing of the Americans with Disabilities Act (ADA). This landmark legislation prohibits discrimination against individuals with disabilities in all areas of public life, including jobs, schools, transportation, and all public and private places that are open to the general public.
United Methodists have cause to celebrate. The ADA has been critical for advancing disability justice and works in harmony with the United Methodist pledge to promote "an inclusive, compassionate, and creative response to the needs and gifts of people with disabilities" (Book of Resolutions 3302). In 1990, Church and Society worked in coalition to mobilize support for the passage of the Americans with Disabilities Act.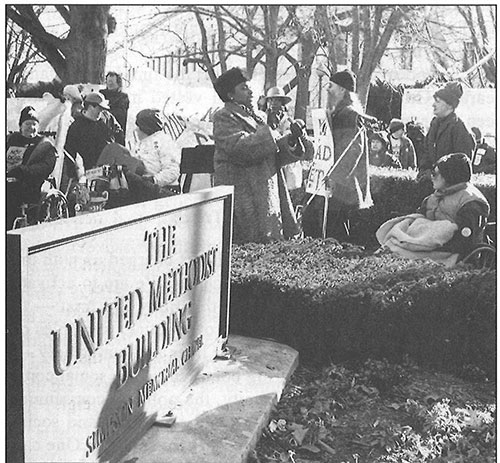 Activists rally outside the United Methodist Building in support of the Americans with Disabilities Act, 1990.
Our Work Continues
"While there is much to be done within the church to make real the gospel of inclusiveness with regard to people with disabilities, there is a world society that also must be made aware of the concerns and needs of these persons" (Book of Resolutions 3302).
As Rev. Hank Jenkins, Ordained Deacon and Co-Chair of the UM Association of Ministers with Disabilities (UMAMD), shared, "Working toward social justice has always been a strong part of our Wesleyan heritage, and the disabled community must be included in that work. We are proud of our United Methodist leaders and churches who recognize the humanity of people with disabilities and are doing the work to recognize us as full members of the body of Christ."
"Without the ADA, I would have been unable to access the educational and employment resources necessary to live out my calling as a minister of Jesus Christ," said Rev. Jonathan Campbell, Sr. Minister of Lacey UMC in the Greater New Jersey Annual Conference and Co-Chair UMAMD. "Like millions of other Americans, the ADA allowed me to fully use my gifts, live out my dreams, and strengthen my community."
Collaboration is Key
Church and Society is a grateful partner within the greater UM Church connection, working with United Methodist agencies, caucuses, Annual Conferences, congregations and congregants to promote wholistic and lasting systemic changes both inside and outside of the Church that affirm equity for all. And as a leading organization within the Interfaith Disability Advocacy Coalition (IDAC), a working group of the Washington Interreligious Staff Community, Church and Society helps to bring the voice of the disability community to the decision making table by advocating for disability justice on Capitol Hill and throughout the Federal government.
On July 22 at 12:00 PM EST, with the help of Church and Society, IDAC will host a virtual panel discussion, An Interfaith Reflection on the ADA: 30 Years Later. Bishop Peggy Johnson, Church and Society Board Member and longtime champion of disability justice will serve on the panel, remembering the momentous victory of the passage of the ADA, reflecting on successes and ongoing challenges with its implementation in faith communities, and looking toward the work that remains as we strive for an even more just society.
We hope you will join us in this work. Here are some steps you can take to promote disability justice today:
"Every United Methodist Conference is required to have a Disability Ministries Committee. We think it is important for our leaders and church members to find out how they can get involved in their conferences DMC and actively support the ministry and advocacy that is taking place." - Rev. Hank Jenkins, UMAMD Co-Chair