faith_in_action
Reflections on meeting with the Iranian Foreign Minister
Peace is indeed possible when faith traditions and people of good conscience join together for a shared vision.
---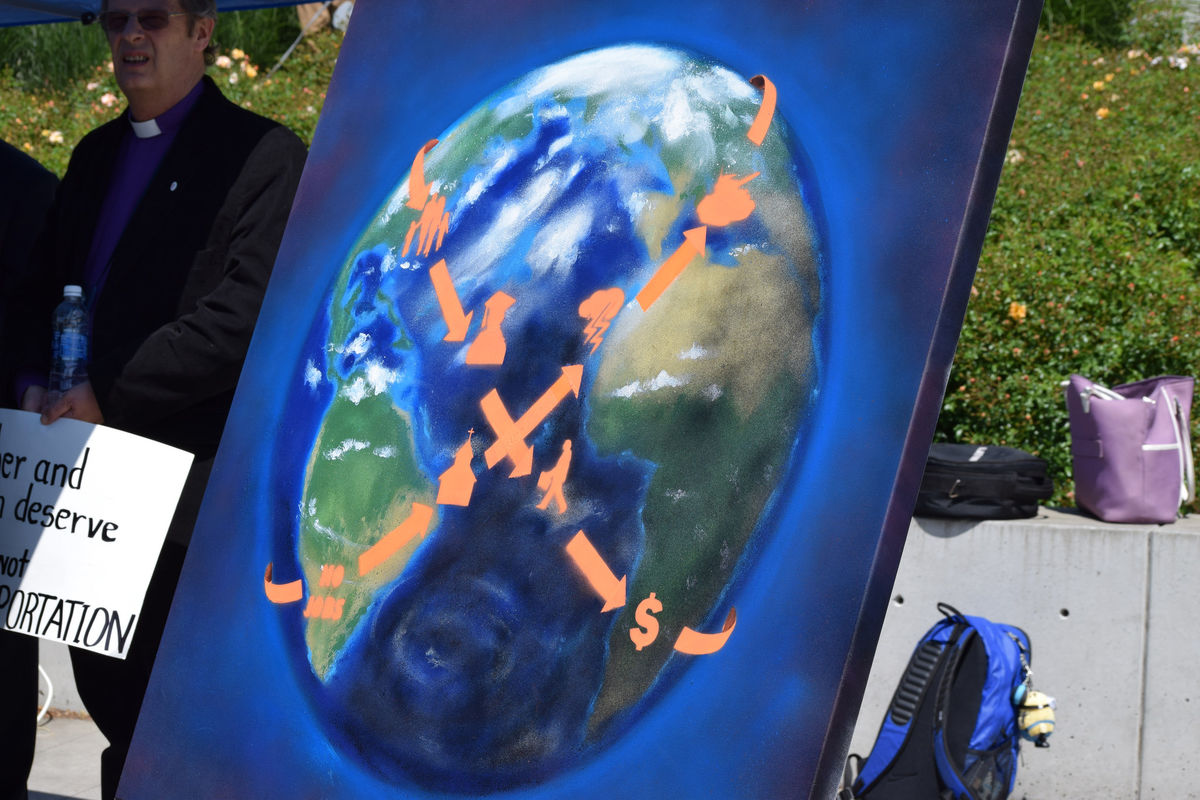 Blessed are the peacemakers, for they will be called children of God (Matthew 5:9)
Peace is indeed possible when faith traditions and people of good conscience join together for a shared vision.
Earlier this month, Mark Harrison, Director of the Peace with Justice program and Special Assistant to the General Secretary, went as Church and Society's representative in a group of faith leaders to meet with Iranian Foreign Minister Javad Zarif.
The purpose of the meeting was to express our grave concerns of the possibility of a war between the U.S. and Iran, and to reiterate our faith commitment to dialogue and diplomacy over war and aggression. A war would be devastating for the peoples of United States, Iran and in the Middle East region.
As people of faith, we know that faith communities historically have played a role in peacemaking. We shared with Foreign Minister Zarif that faith communities continue to be committed to preventing war.
We expressed our desire for a meeting with Iranian faith leaders and other regional religious freedom and human rights leaders in Iran. We informed him that many of us have been advocating with Congress to end the war in Yemen demonstrating our commitment to peace in the region.
We shared with Foreign Minister Zarif the faith leaders' statement "Back from the Brink: The Call to Prevent Nuclear War." Endorsed by a wide array of organizations, the document lays out five U.S. policy solutions to prevent nuclear war:
Renounce a nuclear first-strike option
End the sole, unchecked authority of any US president to launch a nuclear attack
Take U.S. nuclear weapons off hair-trigger alert
Cancel the plan to replace the U.S.'s entire nuclear arsenal with enhanced weapons
Actively pursue a verifiable agreement among nuclear armed states to eliminate their nuclear arsenals.
Foreign Minister Zarif spoke of our shared Abrahamic traditions for peacemaking and reaffirmed the role that faith leaders have in promoting mutual understanding and religious coexistence.
He shared with us how U.S. sanctions is impacting the Iranian people. We learned Iranian UN diplomats can only visit three buildings in New York: the Ambassador's residence, the UN and Iranian UN Mission office. Due to the sanctions, Mr. Zarif was not allowed to visit his Ambassador to the UN who was in the hospital with cancer.
He stressed the importance of the Iran Nuclear Deal (also known as the JCPOA) which Iran signed with the US, other countries and the United Nations in July 2015. Yet just three years later, in May 2018, the US withdrew from the Deal. He stated that Iran does not want a war with the US. As faith leaders, we also believe that a return to the JCPOA is central to reaffirming the United States' role in promoting lasting peace in the Middle East.
Foreign Minister Zarif emphasized that ending the conflict in Yemen where there is a major humanitarian crisis would play a critical role in bringing peace to the region. We agreed with this assessment. He did not deny Iran was involved in backing a party in the conflict but emphasized that Iran supports a negotiated settlement of the conflict in Yemen.
He further said that Iran is willing to meet with Saudi Arabia to address conflicts in the region. He also offered that his office would be open to holding a dialogue among faith leaders to promote peace in the region.
Following our meeting with Foreign Minister Zarif, the delegation agreed to a number of actions:
Advocate for the US to return to the Iran Deal as both politically wise and a morally imperative foreign policy
Advocate for legislation to prevent an unauthorized war with Iran
Continue our advocacy for legislation which would end US military support to Saudi Arabia for its war in Yemen and to provide humanitarian assistance to Yemen
Explore a summit with religious leaders from around the world and the Middle East region on reconciliation, diplomacy and peace.
Through continued diplomacy with faith communities, we believe that peace is possible.
I affirm this delegation of faith leaders as a critical and courageous step towards realizing peace for all.