faith in action
#WearOrange and Take Action for National Gun Violence Awareness Day
Today is National Gun Violence Awareness Day.
---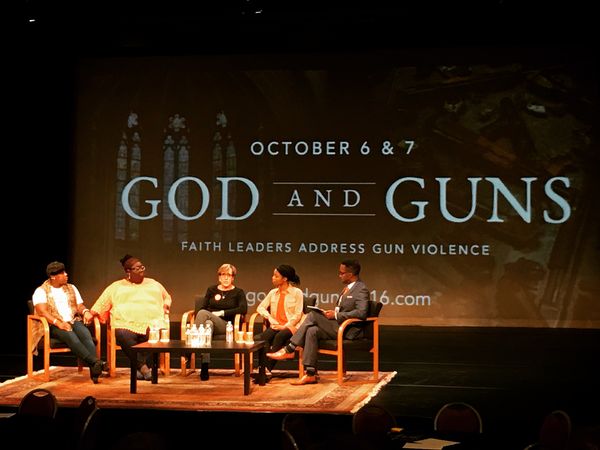 There are more than 50,000 shootings in the United States each year. Over 30,000 people die annually. That is over 90 people a day, 7 of which are children and youth. Nearly two-thirds of all gun deaths are suicides.
Gun violence intersects with other ills in society, including domestic violence, gang violence, misogyny, racism, homophobia, xenophobia and other forms of hate.
More than 300 organizations will join together this weekend to #WearOrange and to protest as part of the third annual National Gun Violence Awareness Day. The weekend includes rallies, vigils, picnics and family-friendly activities across the United States, in person and online.
Join us — wear orange tomorrow and post pictures of yourself, your congregations or your family on social media using the hashtags #WearOrange and #UMC to show that you stand against gun violence. Visit www.wearorange.org to take part in one of the over 250 events nationwide.
The Empire State building, Niagara Falls and thousands of individuals will #WearOrange this weekend — take part!
Why #WearOrange
Fifteen-year-old Hadiya Pendleton performed with her Chicago high school band at President Barack Obama's inauguration on January 21, 2013 in Washington, D.C. Hadiya was shot by a gang member one week later in a case of mistaken identity while hanging out in a park with friends after finishing her final exams.
Hadiya's friends, inspired by her life and death, started a movement calling attention to gun violence by asking their community to wear orange. In a poignant twist of symbolism, they took the color from hunting culture, where hunters wear orange to signify that they are not the target. The National Gun Violence Awareness Day and the #WearOrange campaign was born on June 2, 2015, what would have been Hadiya's 18th birthday.
Take Action
Along with raising awareness around the epidemic of gun violence, National Gun Violence Awareness Day is a day to mobilize your community. Like Hadiya's community, use the day to turn memory to action for change.
Educate yourself and others on gun laws where you live.
Advocate against legislation such as federal concealed carry reciprocity, which would have gun permits function like driver's licenses and undermine state laws (read more about this proposed law).
Have hard conversations with family, friends, neighbors, church members, and others in your circle who hold diverse views on guns.
Host a church viewing of documentaries such as:
The Interrupters, which powerfully follows a local, faith- and community-based anti-violence group as they interrupt violence in Chicago.
Newtown, which uses personal testimony to tell the story of the aftermath of the 2012 tragedy.
The Armor of Light, which asks if a "pro-life" evangelical Christian can truly be "pro-gun." The film begins to explore the tangled relation of racism, pro-gun politics and Christians.
Begin the three-week Kingdom Dreams, Violent Realities: Reflections on Gun Violence from Micah 4:1-4 Bible study at your church.
Continue the Conversation
June 12 is the first anniversary of of the 2016 mass shooting at the Pulse Nightclub in Orlando, Florida. Forty-nine people were killed.
June 17 is the second anniversary of the 2015 mass shooting at Emanuel African Methodist Episcopal Church in Charleston, South Carolina. Nine people were killed during Bible study and prayers.
As these and other continuing incidents make clear, gun violence is an ongoing challenge. In other words, our work is not done when we conduct a Bible study or view a film. June 2 is a day to commit yourselves to sustainable action and awareness for change.
With an eye to sustainability in your #WearOrange activism, connect with organizations in your area working for gun violence prevention. Whether they are local chapters of national groups such as Moms Demand Action for Gun Sense in America, state coalitions such as the Ohio Coalition Against Gun Violence, or groups that seek to impact specific dynamics in gun violence such as Operation L.I.P.S.T.I.C.K or Community Justice Reform Coalition, get connected.
As the numbers—and other facets—of gun violence show, gun violence demands a culture shift and will only be addressed effectively through a collective, communal action. We are stronger together.
To find out more ways to get involved in gun violence prevention, contact Jeania Ree Moore at jmoore@umcjustice.org.