faith in action
Greetings on the project of liberation
Introducing Church and Society's new doctoral fellow in public health.
---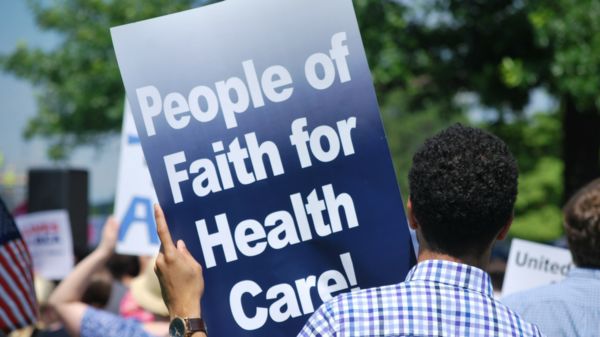 My name is Rev. Dr. L.A. McCrae, CSC-AD. It is great to be back with my United Methodist Church family at the General Board of Church and Society.
I am native to the Baltimore-Washington Conference and spent many years involved in the conference youth, young adult, and justice ministries. Currently, I serve as a Recovery Chaplain with project: liberation, the Director of Justice and Reparations Initiatives for Memorial Episcopal Church and am an alcohol and drug counselor. My academic work is rooted in my doctoral studies of Public Health at Morgan State University; an HBCU in Baltimore, Maryland born out of the Black United Methodist Church movement.
This summer my work is grounded as a Doctoral Fellow in Public Health. Over the course of the summer, I will be reflecting on public health concerns, public theology, and public engagement. My socio-theological interests are at the intersections of complex trauma, traumatic (acquired and toxic) brain injury, survival sex, and substance use disorder. I believe we can advance the cause of abolition by identifying, naming, and dismantling the systems and institutions that lead to mass incarceration and school pushouts.
I am looking forward to welcoming and training up a new cohort of Recovery Chaplains (RCs); those that are concerned about this project of liberation at the intersections of radical justice and liberation. These RCs will be trained in addiction recovery, trauma-informed care, healing-centered engagement, and abolition.
Abolition is certainly not a new concept for United Methodists. We can almost hear John Wesley praying and encouraging prisoners in England. We have witnessed Methodist leaders protest on the frontlines, side-by-side with leaders from the Movement for Black Lives. We read the prophetic words shared by our General Conference, in our Book of Resolutions, regarding the criminalization of those who are marginalized and disenfranchised. We have a responsibility and calling to advance this project of liberation through our faith-based abolitionist organizing.
Our nation is grappling with the opioid epidemic as well as the novel coronavirus. People that struggle with substance use and/or co-occurring disorders feel the additional weight Covid-19 brings as well as a sense of unparalleled isolation and despair. When we take into consideration the ways the social determinants of health further complicate our ability to authentically connect in healing-centered spaces. United Methodists have already created the infrastructure to access this healing through Health and Wholeness Team. It is our calling to retool, retrain, and deploy these passionate individuals to communities seeking hope and connection.
In these next few months, I am looking forward to hosting conversations, curating trainings, and shaping containers for healing, liberation, and abolition. And most of all, looking forward to connecting and deepening the network of those called to this project of liberation.