faith in action
CamCam shares about her time as a Church and Society Fellow and encourages you to apply!
Now is the time to apply to be a fellow with Church and Society for fall 2019. An alumnus, Camille Bianca S. Manangan, tells you why you should.
---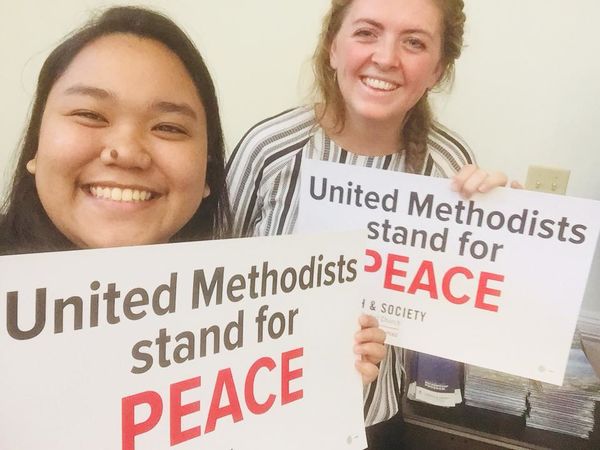 Mabuhay! I am Camille Bianca S. Manangan, but most people call me "CamCam" and I am from Manila, Philippines.
My country is known for its rich biodiversity. The popular tourist destinations are the beaches, heritage towns, monuments, mountains, rainforests, islands and diving spots. However, we are also known for our unemployment rate, poverty, poor infrastructure, heavy dependence on remittances, corruption, political dynasties, traffic, drugs and extra-judicial killings.
There are many marginalized sectors in the Philippines, but over the years, the Philippine government has failed to address the injustices its people face.
By failing to provide the basic human rights of: life, liberty, security, quality education, equality, freedom from discrimination, a fair trial and privacy, the Philippine government has failed to make the lives of its people as comfortable as possible.
As a young leader in The United Methodist Church and an aspiring lawyer, I have always wanted to have an experience regarding issues of human rights. I was blessed with the opportunity I received to serve as a fellow with the General Board of Church and Society. I spent 10 weeks in Washington D.C. and worked alongside Rev. Jeania Ree V. Moore, the director of civil and human rights for Church and Society.
One memorable experience as a fellow was when I attended a prayer vigil for murdered indigenous women.
The vigil made me realize that the Lumad people of the Philippines, who are fighting for their rights to education and ancestral lands, are similar to the indigenous women in the United States, who are being murdered and kidnapped without protection or due process.
I did research on extra-judicial killings in my country to see how the faith community is responding to this injustice.
This fellowship provided me with great insight and connections. As I conducted my research, I read articles and spoke with many different people from various annual conferences and jurisdictions within The United Methodist Church working with Filipinos in the Philippines to speak out and work toward a more just society. The church is doing something by talking to people and naming this injustice. The church is providing care to people who have lost a loved one because of the killings.
The fellowship program at Church and Society made me more critical. The staff members and their work taught me about solidarity and speaking out. I am now actively seeking change, and more resilient and brave to speak up. I am now thinking about making better youth programs within our annual conference, just like the Ecumenical Church and Society Affairs Camp we hosted last March. During this camp, young people within my conference gathered and visited hansenites, also known as leprosy patients, at a hospital to learn more about their stories.
My prayers are entwined with the prayers of other people. I pray for a better church, a church that refers to "us", the people who are the temple of God's love and hope.
As an alumni of the Church and Society Fellows program, I can say my life should impact all people, as I am called to be in solidarity. I am with my fellow Filipino people, who are all striving to survive the injustices of our country.
The Church and Society Fellows program allows individuals to research and work alongside the staff of Church and Society to address a specific justice issue. Fellows learn how the staff of Church and Society works to address justice issues, intersectionally and collaboratively, with faith-based partners at the national and grassroots levels. I encourage you to discover how Church and Society resources and equips the church to seek justice and pursue peace in society.
This full-time opportunity offered by Church and Society is designed for spiritual, professional development and discernment. Fellows live in intentional community and are part of a cohort for reflection and experiential learning. This year's program dates are September 20 through November 30.
Church and Society Fellows will receive a stipend upon completion of the program's requirements. To apply, please visit here.